'Dead Lucky' SBS: Crime drama's attempt at depicting multi-cultural Sydney underwhelms

A good friend and I would often binge episodes of Rizzoli and Isles on our days off. It's an incredibly straightforward police procedural that would feature a murder investigation each episode. Once the murder occurred, we would have a competition by predicting who killed the victim and why. The clues were often obvious and the twists so heavily foreshadowed that this wasn't a hard task, even when the crimes were delightfully ridiculous. (And a full disclosure, my housemate would win on a regular basis).
SBS's new crime miniseries "Dead Lucky" reminds me of these Rizzoli and Isles binging sessions, where the investigation of the crime and the discovery of clues are done in an unexacting manner that left me quite underwhelmed.
The miniseries comes from an experienced team, including writer-producing duo Drew Proffitt and Ellie Beaumont, whose credits include House Husbands, Cleverman and Blue Water High. Director David Caesar is known for Water Rats, Dirty Deeds, and Mullet to name a few.
Rachel Griffiths plays Detective Grace Gibbs, a Dirty Harry-esque figure with her own moral code and a distrust of her superiors. She is teamed with Charlie Fung (Yoson An), a green, trainee detective who is placed under her supervision.
When Corey Baxter (Ian Meadows), a violent fugitive responsible for the murder of Gibbs' former partner, holds up a convenience store, Gibbs and Fung investigate and set off a chain of events. As a result, the off-the-books convenience store worker Mani (Mojean Aria), his girlfriend Bo-Lin (Xana Tang) and their flatmates in their overcrowded share house are revealed to be connected to a slew of incidents, from murder to money laundering and vigilante justice. When one of them goes missing, it's up to Gibbs and Fung to catch Baxter before it's too late.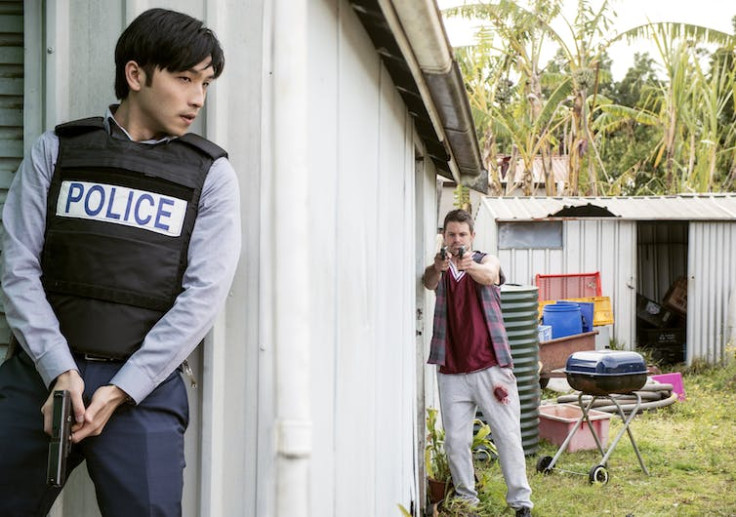 Each scene in the first episode is incredibly brief. When the necessary plot information is provided, the narrative quickly moves onto the next delivery of crucial information. This leaves the plot being very economical.
In Complex TV: The Poetics of Contemporary Television Storytelling, Jason Mittell draws on Seymour Chatman's work on kernel and satellites. A major kernel is information that is key to the story's cause-and-effect narrative. Satellites are minor and inessential: they can be removed without affecting the core narrative. Mittell argues, however, that these satellites provide texture, tone and character richness. "One of the pleasures of consuming a serialised narrative," he writes, "is trying to figure out whether a given event might be a kernel or a satellite in the larger arc of a plot line or series as a whole."
A key limitation to "Dead Lucky's" script is the dearth of satellites in the development of the characters. Apart from Gibbs being a single mother or her love of chewing on pens and lollipops, there isn't any texture here.
Stock characters
The show tackles several topics that speak to high profile media stories, including exploited convenience store workers, gambling, Chinese international students (with one character engaged in spying and another buying essays to pass a course) and domestic violence. Without any texture, these players become stock characters that lack any nuance. These topics are merely gestural. They are plot points used to propel the narrative without generating any profundity. We aren't made to think about these issues in any meaningful way.
The series attempts to represent a vibrant, multi-cultural Sydney, which should be commended. The only character to be given any depth, however, is Gibbs. We are made to distrust the house of international students (plus one rural student) and the working class characters. Even though he is in love with a colleague, Fung doesn't really exist beyond his status as a rookie detective.
We have seen all these characters before. Fung's Chinese parents are largely concerned with his job and him not being successful. Corey Baxter is a classic view of a working class Australian — trackies, unkempt beard and all. One young person being interviewed actually says, "I was bidding on a first edition Nirvana vinyl, soz."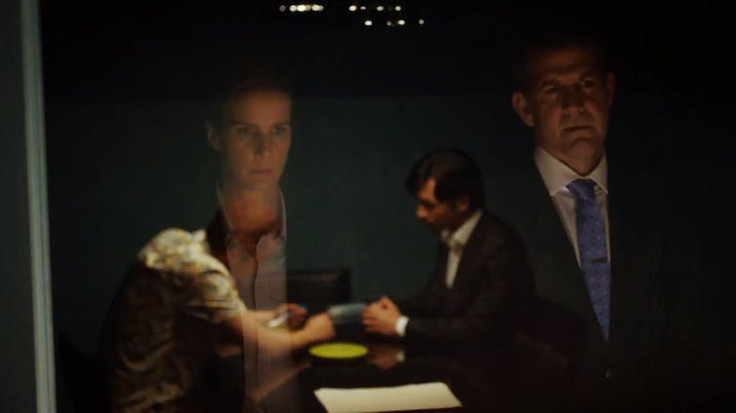 In an interview with Screen Hub's Rochelle Siemienowicz, series co-producer and writer, Drew Proffitt cites this cross-cultural perspective as a way of making the show a quality product for an international market, and how "showrunners" are seen as driving quality TV.
The showrunners are the people who have the creative authority over the direction of a television program. Think Game of Thrones' co-creators and executive producers David Benioff and D.B. Weiss, Killing Eve's writer and producer Phoebe Waller-Bridge, and Jenji Kohan of Orange is the New Black (as creator) and Glow (as executive producer) fame. Although the definition has been hotly debated amongst critics and television studies scholars for some time, quality television is generally seen as having a tone and standard that separates it from regular TV.
"Dead Lucky" is far removed from House Husbands' genre and general feel. Those stock character types generally work in that context because it's a comedy. Here, they align "Dead Lucky" with crime serials like Rizzoli and Isles and Law and Order SVU, rather than innovative titles such as Killing Eve or Happy Valley.
Australia has produced some fantastic television series that can be elevated to this supposed "Golden Age of TV" — Glitch, The Kettering Incident and Please Like Me are a few such titles. These shows played with genre conventions and featured genuinely original protagonists exploring their complicated psyches. Unfortunately, we aren't given the chance to experience this in "Dead Lucky's" first season.
---
'Dead Lucky' will be broadcast on SBS from July 25 2018 and will available on SBS On Demand.
Stuart Richards, Researcher and Lecturer in Screen and Cultural Studies, University of Melbourne
This article was originally published on The Conversation. Read the original article.
MEET IBT NEWS FROM BELOW CHANNELS