China employs troop of trained Asian monkeys in air force ahead of victory parade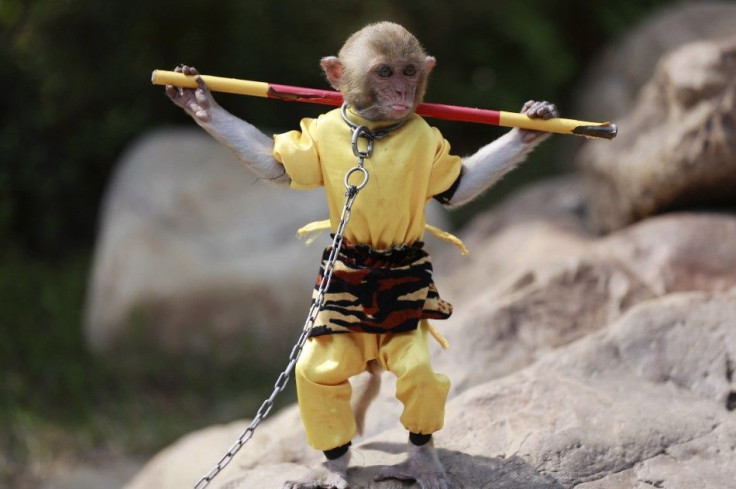 China's air force has recruited an army of trained troops to make sure that the airways are clear during the coming victory parade on Sept. 3, which marks the 70th anniversary of the end of World War II. The army of troops comprises five trained monkeys that are responsible for climbing trees and destroying birds nests.
According to South China Morning Post, the troop of specially trained monkeys will help clear the skies over Beijing, ahead of the air show and victory parade designed to showcase the country's growth in front of the world leaders. The show is scheduled to be held at Tiananmen Square. It is expected to be attended by a number of global leaders, including Russia's president, Vladimir Putin.
There will also be a demonstration of army of tanks, troops and missile launchers during the event. The trained monkeys are expected to help with the 200 aircraft that will perform the fly-bys. In addition, the aircraft will perform several manoeuvres, including in-flight fuelling.
The Chinese air force has recruited five Asian monkeys from China, Bangladesh and India to destroy the bird nests in the trees that could result in a potential avian attack by the flocks of birds. The Guardian reports that the air force officials have started to use monkeys to eliminate the bird nests since April and trained them for over a period of three months.
"Our original anti-bird method of using monkeys is a low-cost, low-risk and highly efficient method," Han Bing, the political commissar of a military airstrip where the technique has been applied, said in an interview with Beijing News. "It's the first in the world."
The team only employed male monkeys since they were reportedly easy to train and are more active. According to the officials, the monkeys have been trained to "follow" orders to destroy the bird nests.
Contact the writer at feedback@ibtimes.com.au, or let us know what you think below.
MEET IBT NEWS FROM BELOW CHANNELS