Bob Arum: Floyd Mayweather Jr. Holding Up Super Fight Against Manny Pacquiao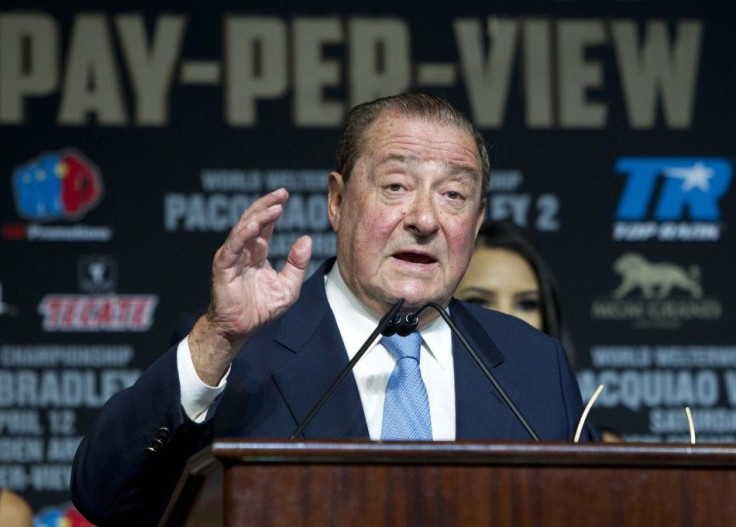 Like in 2010, Bob Arum is claiming that Floyd Mayweather Jr. still isn't signing on the dotted lines for his super fight against Manny Pacquiao. A lengthy interview by The Examiner's Brad Cooney with Top Rank Promotions Chief Executive Officer (CEO) revealed that there is a growing frustration from the promoter because of Mayweather's failure to agree to the bout scheduled on May 2, 2015.
"As far as we are concerned, we've negotiated all of the points, and we are all in accord. Pacquiao signed off on everything, and we are ready to rumble," Arum said in the article."I can't say the same for the other guy, but that's not my job. The people representing the other guy have to deliver him, and that's what we are waiting for."
Recent reports stated that Pacquiao has already agreed on the fight venue, which will be the MGM Grand in Las Vegas, the fight purse at 60-40 with the bigger share to Mayweather and the drug testing procedures. As stated by Arum, Pacquiao has signed off on all points and they are just waiting for the official decision by Mayweather.
When asked if Mayweather was "holding up this whole thing", Arum answered frankly and said that Mayweather is the only guy holding up the fight. Arum mentioned that Mayweather's representatives has already agreed to the fight but they still can't produce Mayweather's signature. Arum also questioned Mayweather's conviction to fight Pacquiao saying "It just solidifies my feeling all along that Mayweather doesn't want to fight Pacquiao."
There are also unconfirmed reports that the Mayweather camp has also offered a fight in 2015 against Cotto. While other fighters like Amir Khan and Marcos Maidana are hoping that the Mayweather vs. Pacquiao fight won't happen so they can have the chance to fight either fighter.
Arum and Oscar De La Hoya of Golden Boy Promotions have already given way to the Mayweather vs. Pacquiao fight giving up the May 2, 2015 Cinco de Mayo weekend date initially for the Miguel Cotto vs. Canelo Alvarez bout. Mayweather has yet to officially agree however and boxing fans are wondering if they they will have the same result in 2010 when negotiations happened between the two camps but a fight never happened.
To contact author of this article email j.gloria@IBTimes.com.au
MEET IBT NEWS FROM BELOW CHANNELS