'Battleborn Tap' to let iOS, Android players join the fray with tie-in game and unlockable skin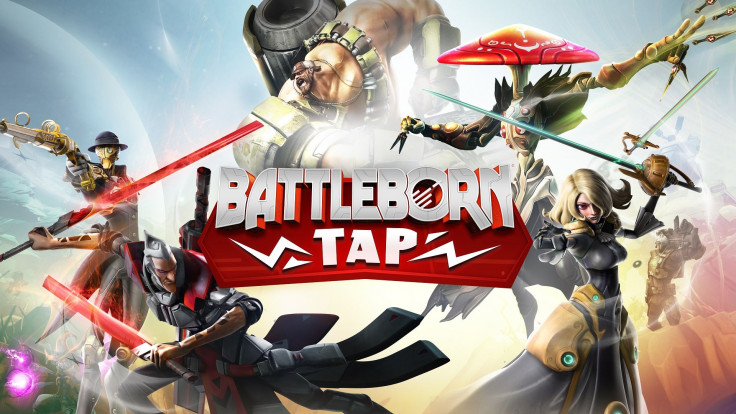 "Battleborn" is already out on its respective platforms. However, mobile players can enjoy the fray thanks to a new tie-in mobile game from Gearbox Software.
The developer has announced that the "Battleborn" universe will also come to mobile platforms via "Battleborn Tap." As the name suggests, "Battleborn Tap" will have payers forming their squads on the battle and tapping their way to victory.
As the player progresses through the game, they also get more arenas, upgradeable skills and weapons and even customise heroes so they can reach their maximum potential. This is a must, since the enemies become even harder to deal with as the game goes along, as confirmed via the "Battleborn" blog.
A sample of the gameplay can be seen in the video below. There are five types of gears according to rarity, which can be used to boost a hero's capabilities. And since it is a tie-in with "Battleborn," those who own the PS4, Xbox One or PC versions will get unlockable exclusive special rewards when playing "Battleborn Tap."
The developer has also announced that for downloading the "Battleborn Tap" game, players with a SHiFT account will let players earn a gold Orendi skin, redeemable on any of three platform versions of "Battleborn."
To get the gold Orendi skin, players will need to go to "Battleborn Tap" home tab, click the SHiFT button and click "Connect" to sign in with the SHiFT account. From the mobile game, they would then need to go to the "Extras" menu, select and sign into the SHiFT section to connect the accounts. This will bring out the "Battleborn Tap Reward" confirmation screen.
"Battleborn Tap" is a great way for players to experience what it's like to embody any of the 25 characters that are also available in "Battleborn." Each of these heroes has a different playstyle and feel, according to the PlayStation Blog.
A new post covers 12 of the heroes that will be coming to the game, now that it's already out on the console and PC platforms. The characters are not only varied in their capabilities, but also in themselves. Some of the oddest heroes include Toby, a little penguin in a mecha suit, a Tactical Battle Chair-bound Kleese who can summon black holes, wrestling champion El Dragon, a teenager-monster duo where the latter is grafted on to the former and a hawkman. And that's just the first half of it.
"Battleborn" features many creative and colourful characters, some of whom do not even look like your average heroes. After all, where can you find a sentient mushroom, a chaos witch, and a tank as heroes in their own right?
If those characters are not enough, 2K Sr. Community Content Editor Darren Gladstone has also confirmed that they are currently working on five more "Battleborn" heroes, which will be released for free following launch.
MEET IBT NEWS FROM BELOW CHANNELS