The Syria 'ceasefire' deal is no such thing – it's cover for the US and Russia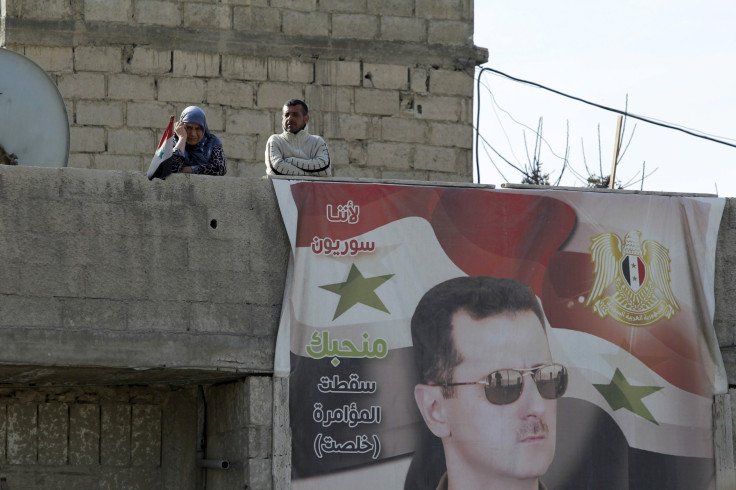 Headlines have been declaring a ceasefire in Syria's conflict. Announced by US secretary of state John Kerry and Russian foreign minister Sergei Lavrov late on February 11, it was greeted as a ray of hope in the floundering efforts to end this seemingly intractable conflict.
What it isn't, is a ceasefire. The International Syria Support Group (ISSG) – a coalition of 17 nations, among them Russia and the US, the Arab League, the European Union, and the UN – has not in fact used that term, preferring a "cessation of hostilities". And it isn't even that: it's a proposal for a cessation of hostilities, one that will supposedly start soon, but only after a working group has met with representatives of countries supporting the Assad regime and those backing Syria's opposition.
Nor is it a viable proposal. Instead, it's best seen as political cover. It covers Kerry, in his remarkably zealous quest to secure the start of a resolution by the end of March, and Russia, in its mission to prop up the Assad regime by bombing the rebels and civilian areas in concert with both Lebanon's Hezbollah and Iran.
The plan
There are two main components to the plan. First, the ISSG proposes "immediate and sustained humanitarian access to reach all people in need, throughout Syria, particularly in all besieged and hard-to-reach areas".
Its immediate priorities: the regime-held parts of Deir ez-Zor Province in eastern Syria that are surrounded by Islamic State (IS), regime enclaves in Idlib Province in north-west Syria, and the opposition-held town of Madaya and suburbs of Damascus, where scores of people have died of starvation amid over three years of blockades by Syria's military.
The plan then sets out the steps for "a nationwide cessation of hostilities" to begin in one week's time. Military operations will be halted except for operations against IS, the jihadist militant group Jabhat al-Nusra, and "other groups designated as terrorist organisations by the United Nations Security Council".
These two components lay the foundation for the long-heralded "political transition", still planned to begin within six months after talks between the regime and opposition. The transition will last 18 months to establish a "credible, inclusive, and non-sectarian governance" with a new constitution and "free and fair elections".
But as with the ISSG's plan set out in mid-December, this proposal makes no reference to the fate of president Bashar al-Assad and his inner circle.
The obstacles
On the surface, the commitments to aid and cessation of hostilities meet the conditions set by Syria's opposition/rebel bloc for the start of "proximity talks" with the Assad regime. The failure to engage with those conditions undermined the recent Geneva discussions, which ground to a halt with no advance after less than five days. Meanwhile, Russia continued its intense bombing of north-west and southern Syria in support of regime/Iranian/Hezbollah ground offensives.
However, this is only on the surface. During the press conference that announced the deal, Lavrov made clear that Russia would not halt airstrikes: "The truce does not go for terrorists … The military operation against them will be continued."
The proposal covers Moscow's operations by allowing offensives on IS and Jabhat al-Nusra – but there is no guarantee that Russia will stick to these limits. Since the beginning of its strikes on September 30, Russia has used the pretext of attacking IS for a campaign in which more than 80% of operations have been on opposition-held territory. It has progressively expanded that rationale to "terrorists", which conveniently seems to cover all anti-Assad groups.
With Jabhat al-Nusra operating in north-west Syria close to and sometimes alongside rebel factions, Russia can easily maintain this façade. A spokesman for the leading rebel group Ahrar al-Sham immediately predicted that Moscow would exploit the ISSG cover.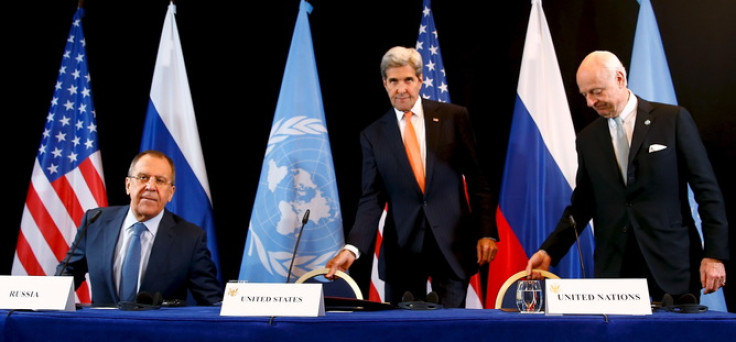 Despite Lavrov's uncomfortable expression at the news conference announcing the deal, Russia has another layer of protection from a ceasefire it doesn't really want. The ISSG proposal does not mandate the end to fighting, but only sets up a task force to consider "modalities". It specifically says that implementation of those modalities is contingent on "confirmation by the Syrian government and opposition".
Since 2012, the Assad regime has baulked at any restriction of military operations. It undermined the short-lived 2012 UN monitoring force. Its use of chemical weapons, barrel-bombing, and cluster bombs – as well as mass killings of civilians in ground operations – have defied UN resolutions and international law. President Assad has clearly stated that political talks cannot begin without total defeat of "terrorists".
The proposal to get aid into besieged areas does not guarantee relief for civilians, especially those cut off by the Syrian military. The ISSG only says that members will "use their influence with all parties on the ground" to seek aid deliveries. A "humanitarian task force" will consider a UN plan, but there is no mechanism to proceed if the Assad regime objects – as it generally has done whenever the UN has requested access to besieged areas.
Kerry and Lavrov said that the US and Russia will cooperate on airdrops of assistance to some areas, but given Moscow's position, priority is being given to the regime-held areas in Deir ez-Zor Province. No arrangements have been set out for opposition towns and the Damascus suburbs.
The political game
Put bluntly, the ISSG plan is not for suffering Syrians. It is not for the opposition-rebel bloc, who are now threatened on the battlefield by a combination of the regime/Russian/Iranian/Hezbollah offensives, US-supported Kurdish forces, and IS.
Instead – beyond the Assad regime, which gets more breathing space after it was close to collapse a year ago – the beneficiaries are the US and Russian governments.
As has been the case since autumn 2013, when the US pulled back from a response to the regime's use of chemical weapons, Kerry can show that something is being done – even if it's unlikely to yield a desired outcome – by working with the Russians. He can continue for a few more weeks in the belief, whether genuinely held or cynically put forward, that a "political transition" will occur.
That transition is unlikely to ever begin, but Kerry can then find a scapegoat. As he said when asked by aid workers why he was not protecting civilians: "Don't blame me – go and blame your opposition."
That will suit the Russians just fine. They can maintain that they proposed the cessation of hostilities, even if the plan is hollow. When the opposition and rebels point out the defects, Moscow can ensure that Kerry "blames" that bloc for the "breakdown" of the process. And all the while, Russia's air force can keep bombing, while Hezbollah, Iranian forces and Kurdish units erode the rebels' hold on to territory.
Only hours before the deal was agreed, Bashar al-Assad gave an interview to AFP in which he vowed to retake "the whole country". Ceasefire, what ceasefire?
This article was originally published on The Conversation. Read the original article.
MEET IBT NEWS FROM BELOW CHANNELS