'Street Fighter V' June update brings new costumes, stage variations Ibuki and Story Mode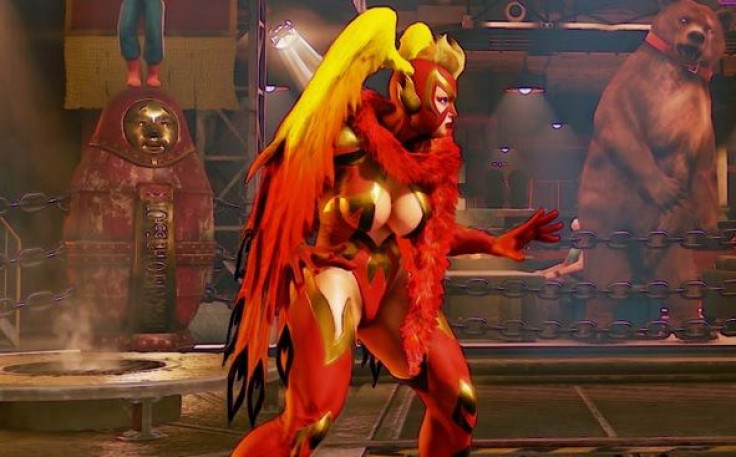 The June update for "Street Fighter V" is finally here, and with it comes more than just the promised DLC. New content will be decking some of the roster members in new, amusing and quite colourful costumes.
Detailed over the official Capcom blog, there are screenshots for all of the costumes for the characters. One rather radical look is Rainbow Mika's red bird costume, which was spotted month ago in the loading screen splashes.
Her costume, seen above, sees her pigtails with red-end highlights, thigh-high red boots and what appears to be a feathery scarf. There's also a bearded Ryu, a very neon-colourful Zangief, a soldier-like Necalli complete with darker black-and-purple dreads, an almost unrecognisable close-cropped Ken and a more provocative look for Chun-Li. However, it appears that the Battle Costumes can only be purchased via the PlayStation Store and Steam and not in-game, as these are premium costumes.
The update will also bring in some stage variations. One of these was seen in the video trailer for Ibuki, which is set in what appears to be a temple with the Mt. Fuji in the background, an air force setting and the night scene in a mountainous area.
Just to keep players reminded, Capcom also provided a breakdown of the pricing for the "Street Fighter V" content for this update. As usual, everything except for the new premium costumes can be bought using Fight Money or real-world money. The pricing scheme are as follows:
New characters 100,000 Fight Money/US$5.99 (approx. AU$8)
New stages 70,000 Fight Money/US$3.99 (approx. AU$5.40)
Alternate stages 40,000 Fight Money/US$1.99 (approx. AU$2.70)
Story costumes 40,000 Fight Money/US$1.99 (approx. AU$2.70)
Premium costumes can only be bought for US$3.99 (approx. AU$5.40). Apart from the costumes, "Street Fighter V" fans can also expect the first story mode, dubbed A Shadows Falls.
According to Engadget, the story will be broken down into five chapters to extend the game for free. The source also emphasised that the story mode will appeal to longtime and hardcore fans of the franchise. However, as far as gameplay styles are concerned, fans may fare better to look forward to storytelling and cinematic scenes instead.
The "Street Fighter V" new free update will debut at the end of June.
"Street Fighter V" June Update (Credit: YouTube/Chaos Gaming)
MEET IBT NEWS FROM BELOW CHANNELS