Shipwreck Allegedly Of A 17th Century Ship Found In Lake Michigan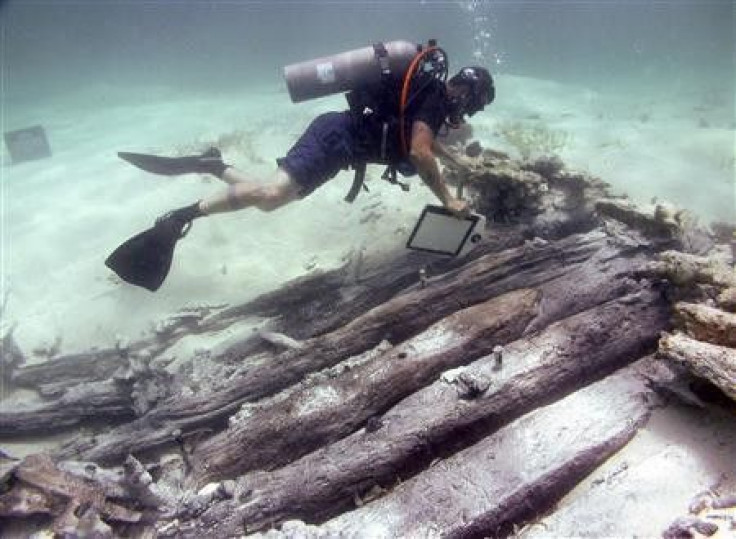 Kevin Dykstra and Frederick Monroe, two treasure hunters based in Michigan, came across a shipwreck in 2011 in Lake Michigan. It has been speculated that the wooden planks found in the wreck with mussels on it could belong to a 17th century ship which goes by the name "Griffin."
Dykstra told Live Science that he hadn't gone to Lake Michigan with the expectation of coming across a ship. The duo's sonar had caught a mass underneath and he had to dive into the water to catch the video. Later on, he and Monroe were looking at the video and that's when it hit them that it could be the Griffin. The duo agreed on the fact that more evidence are needed to prove that it was the Griffin.
Experts did not agree with the duo and were not convinced that the wreckage was on the Griffin. A Great Lakes historian who wrote papers about the Griffin, Brendon Baillod, said that it could be the remains of a tugboat that was thrown away after steam engines started to have the economical edge.
Baillod said that many adventurers in the past have claimed to have found the ship. He explained that the adventurers would go around looking for something else, and they find an old ship. He added that since the adventurers would have heard of the Griffin, they would decide to call it the Griffin.
Dykstra said that the state archaeologists had reviewed the footage and they told the duo that it was interesting and were some neat pictures. He added that the archaeologists questioned them asking if the wreckage could be called the Griffin. They told the duo that it could not be called the Griffin until there was more information, but they did add that it was compelling.
The Griffin was built in 1679 by a French explorer, René-Robert Cavelier, Sieur de La Salle. He sailed through the Great Lakes in the ship and crossed into Lake Michigan. He was attempting to reach the mouth of the Mississippi River, but because he ran out of money, he disembarked with the other leaders on the ship. He left the ship and its crew to pay the debts away.
Contact the writer: afza.kandrikar@gmail.com
MEET IBT NEWS FROM BELOW CHANNELS