'Rise of the Tomb Raider' officially coming to the PC on Jan. 28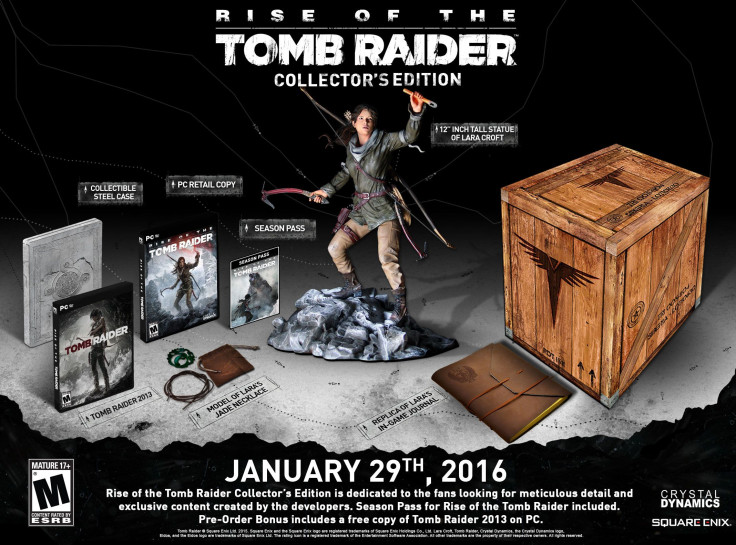 "Rise of the Tomb Raider" finally steps out of the Xbox and heads to the PC later this month, on Jan. 28 to be more specific. The early move to PC has been teased for quite some time now, though the number of special editions that gamers will get to choose from are new.
Originally teased in Steam, the sequel to the 2013 "Tomb Raider" reboot will be available on Steam and any local retailer. Fans can purchase the standard version for US$60 (AU$84.95), a digital deluxe edition that comes with the season pass for US$90 (AU$127.43) and a collector's edition from the online Square Enix store for US$150 (AU$212.38), according to Engadget.
The collector's edition of "Rise of the Tomb Raider" comes with a number of exclusives for fans including a 12-inch statue of Lara Croft, a steel case for the game, the season pass and more. Those who pre-order this version of the game also get the 2013 "Tomb Raider" reboot for free which is a bargain and a decent enough deal for anyone new to the series.
GameSpot noted that "Rise of the Tomb Raider" will be able to support 4K, making the game look better than ever. The developers in Crystal Dynamics stated that they know the PC gaming audience is a passionate one, and the ability to play the game in 4K will have them embracing the game.
Even without the 4K support, "Rise of the Tomb Raider" has proven to be a worthy sequel to the first game with more environments to explore and actual tomb raiding which was barely a feature in the 2013 reboot. The game has gotten plenty of praise from critics and fans alike, though some complaints have been directed towards the predictability of the story.
Whatever version PC gamers plan to get, "Rise of the Tomb Raider" probably won't disappoint them. The game is also available on Xbox One – which had reportedly sold over a million copies – and Xbox 360. It will be coming to the PS4 much later this year due to the deal Microsoft made with Square Enix to make the game a temporary exclusive.
Rise of the Tomb Raider - Launch Trailer (Credit: YouTube/TOMB RAIDER)
MEET IBT NEWS FROM BELOW CHANNELS