Pauline Hanson has a problem with Fahour's Muslim religion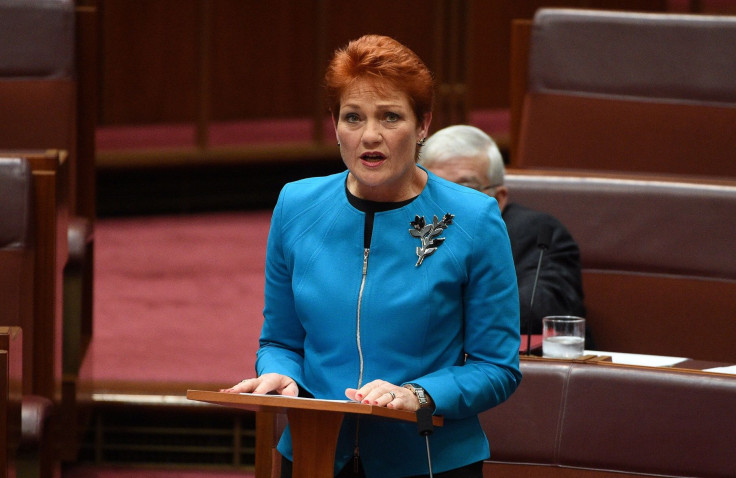 Senator Pauline Hanson has continued the ongoing war of words with Australia Post CEO Ahmed Fahour saying that she has no problem with his skin colour. Hanson said that her problem was the CEO's religion.
"I don't have a problem with the colour of his skin. [But] I do have a problem with his religion if he's actually a fundamentalist and follows the Koran to the letter, which I think denigrates women," Hanson told KIIS FM radio hosts Kyle Sandilands and Jackie O. Hanson started the war of words on Twitter on Thursday giving criticisms against Fahour.
"You know, what Senator Hanson should really work out: Does she have a real issue with how Australia Post is performing or does she have an issue with the colour of my skin or my religion?" Fahour said during his interview in the show The Project. The Australia Post CEO faced criticism when his 2016 wage was revealed early in February. Fahour's wage was revealed $5.6 million, which Prime Minister Malcolm Turnbull said was too high.
Fahour said that he was more than ready to talk about the complexities of running Australia Post. He was also willing to explain how they competed with the global companies and how they managed the $6.5 billion turnover business.
He added that he was happy to explain his side if Hanson's concern was about social inclusion. "If it is about an issue of how I support social inclusion in this country and how we make sure that this beautiful multicultural country we live in, to live together and appreciate each other, if the issue is about that, then no problems at all. I am happy to do that any time of the week," Fahour said.
Fahour defended his former employees on Hanson's jokes about the government-owned business delays. "I don't particularly appreciate any politician, who lives off the taxpayer — because that's what our politicians do — criticising the amazing work that our post officers and employees do for this amazing service," he said.
Fahour resigned from his post after the government-owned business posted a bumper first-half profit of $131 million. The amount showed a growth in parcel volumes although there was a decline in letters by 11 percent. "One of the things that is sometimes lost among many people is the size and extent of this organisation. This is a very large organisation with a very large footprint. It is fair to say it is a little bit more complex than running a fish-and-chip shop," he said during his resignation announcement.
Ahmed Fahour's The Project interview video:
MEET IBT NEWS FROM BELOW CHANNELS