Outcry in Spain after court clears 5 men of raping teen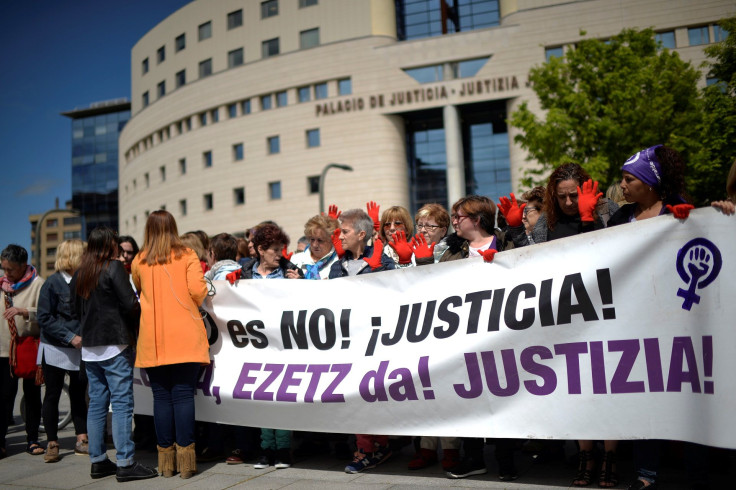 Tens of thousands of demonstrators gathered on the streets of Pamplona, Spain, on Saturday to protest the light sentence given to five men accused of raping a teenager. The men were convicted of the lesser crime of sexual abuse instead of the gang rape of which they were accused.
Local police said there were around 35,000 people who marched outside Pamplona's court to demand for justice for the unnamed victim. "It's not sexual abuse, it's rape," the activists chanted in Pamplona, as well as in other cities like Madrid, Valencia, Alicante and Barcelona. They were protesting the light sentencing of the "Wolf Pack" gang, the men who were accused of raping an 18-year-old girl in 2016 and then recording the attack on their mobile phones.
The men were accused of rape but were convicted of sexual abuse instead. The prosecution had sought for a 22-year sentence for the gang rape and other charges. However, the court sentenced each of them to nine years' prison on Thursday. They were also told to pay € 50,000 (AU$80,000) each.
Spain's criminal code describes rape as involving violence or intimidation. The defence portrayed the young woman as having consented to the act. The court heard that she "adopted a passive, submissive stance" during the act because she feared for her life.
On Friday, the Spanish government said it would consider reviewing the criminal code to update the definition of sex assault. Justice minister Rafael Catalá also urged the country's judicial watchdog to review the stance of one of the three judges in the case after he called for the five accused to be absolved, the New York Times reports.
The Wolf Pack gang
In 2016, an 18-year-old woman reported to the police her alleged gang rape at the Running of the Bulls festival in Pamplona. The woman, who was from Madrid, said five men in their mid-20s offered to walk her to her car. They instead took turns sexually assaulting her, filming their attack on their phones. One of the men even stole her phone before they left.
She was found in a distraught state by a couple on the street outside the scene of attack. She reported the incident to the police, who arrested the men the next day.
The seven videos the men recorded totalled 96 seconds. One of the men shared the videos in a WhatsApp group they named "la manada," or the "wolf pack," boasting about their encounter with their victim. According to police, some of the men were also found in another video showing them sexually abusing a seemingly unconscious woman.
The judge in the case did not allow the jury to consider the WhatsApp chats about the attack.
The men, as named on BBC, are the following:
José Ángel Prenda, 28: He is said to be the leader of the gang. He had been sentenced to two years in prison in 2011 for theft with force.
Antonio Manual Guerrero, born in 1989: A Civil Guard police officer who is said to have recorded six video sof the attack. He was also the one who stole the victim's phone.
ngel Boza, 26: He has criminal records, including theft with force and driving under the influence of alcohol and drugs
Alfonso Jesús Cabezuelo, 29: A military officer who is said to have recorded one video of their attack.
Jesús Escudero, 28: A hairdresser
MEET IBT NEWS FROM BELOW CHANNELS