Obama, Trudeau announce US and Canada will work together to reduce methane emissions, protect arctic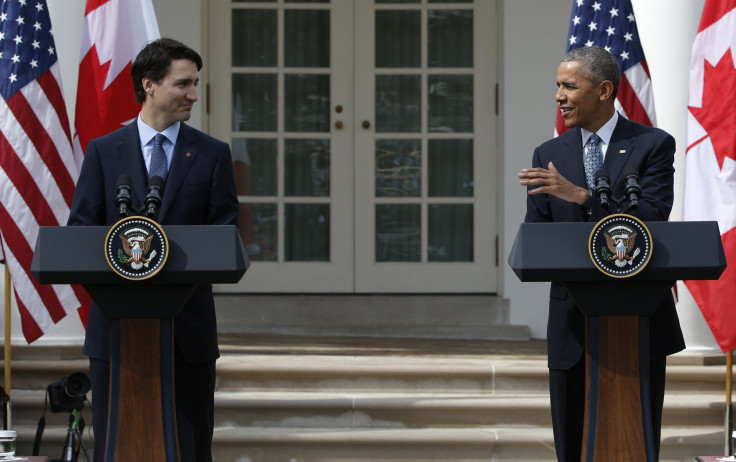 The United States and Canada will work together to reduce methane emissions by 40-45 percent of 2012 levels, US President Barack Obama and Canadian Prime Minister Justin Trudeau announced on Thursday.
The move comes as part of a series of measures designed to slow climate change, marking the thawing of strained relations between the US and Canada under Trudeau's conservative predecessor, Stephen Harper.
Both nations have also committed to signing the United Nations' Paris Agreement on April 22, putting significant weight behind the 55 percent of global house emissions needing to be represented by the signatories in order for the agreement to be put into effect.
"[President Obama and Prime Minister Trudeau] resolve that the United States and Canada must and will play a leadership role internationally in the low carbon global economy over the coming decades," read a joint statement from the two governments.
To reduce methane emissions, the US Environmental Protection Agency (EPA) has begun to develop regulations for methane emissions from existing oil and gas sources, formally requiring methane-emitting companies to provide information to assist in the process by next month.
Environment and Climate Change Canada (EC) will also regulate methane emissions from new and existing oil and gas sources, moving to implement national regulations in collaboration with individual provinces and territories, as well as indigenous populations and stakeholders.
Methane is the second most prevalent greenhouse gas, after carbon dioxide, to be emitted by human activities in North America. It accounts for nine percent of emissions in the US alone.
Both governments will also collaborate to improve data collection related to methane emissions, as well as improving transparency and R&D.
"I am grateful that I have [Trudeau] as a partner," Obama told a news conference following the meeting. "When it comes to the central challenges that we face, our two nations are more closely aligned than ever."
In 2015 the Obama administration rejected the Keystone XL crude oil pipeline between the Canada and the US, straining diplomatic relations between him and Canada's then-Prime Minister Stephen Harper, whose government had promoted and invested in the project. Trudeau made efforts to show a renewed, positive relationship between the countries on Thursday.
"The president and I agree on many things, including, of paramount importance, the direction we want to take our countries in to ensure a clean and prosperous future," said Trudeau, thanking Obama, a decade his senior, by his first name for his leadership on climate change.
"Canada and the US will stand side by side to confront the pressing needs that face not only our two countries, but the entire planet."
Other greenhouse gas targets to be tackled jointly by the two countries include the G20 commitments for fuel efficiency in heavy-duty vehicles and the International Civil Aviation Organisation's (ICAO) upcoming carbon offset measure.
The meeting between the two leaders also established several commitments to protect the arctic from climate change, with consultation with indigenous communities forthcoming.
The measures will involve identifying low-impact shipping corridors, regulating commercial fishing to protect marine diversity, and implementing stricter safety standards for oil and gas exploration and drilling.
MEET IBT NEWS FROM BELOW CHANNELS