Methotrexate prescription drug: Dosage errors lead to deaths; 'Every case is a potentially life threatening error'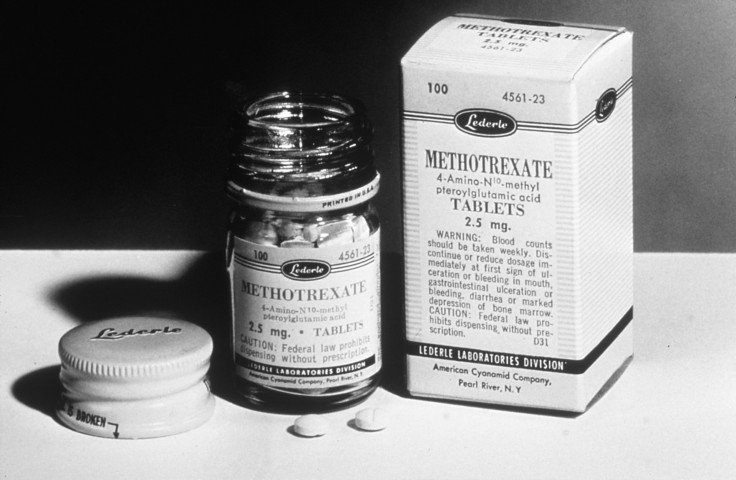 Common prescription drug methotrexate, used to treat medical conditions such as inflammatory bowel disease, psoriasis and rheumatoid arthritis, has been linked to at least seven deaths in Australia since 2000. Researchers have warned of a rise in dosage errors that are leading to avoidable deaths.
A study of national data by the NSW Poisons Information Centre (NSW PIC) revealed 22 deaths since 2000 and in seven cases, erroneous daily dosing was documented, where the victims took the oral medication daily instead of weekly. After analysing coronial and Therapeutics Goods Administration data and cases by Australian Poisons Information Centres, a total of 91 cases of incorrect dosing were identified where the patients took the drug three days in a row.
"Every case is a potentially life threatening error ... It's so easy to take too much. Patients confuse their weekly dose of methotrexate with their daily medications, and it only take three days for the effect to be lethal," lead researcher and senior poisons specialist at NSW PIC, Dr. Rose Cairns, told The Sydney Morning Herald.
The drug often comes in a pack of 50 tablets, which is a year's supply of the drug. Patients often mistake the drug as daily prescription medications. The study found several reasons for patients' dosage errors apart from faulty packaging or patients' misunderstanding dosage instructions. Patients also mistake the drug for folic acid that is often prescribed alongside prednisone or methotrexate. This was another cause for accidental overdosing.
Accidental overdosing on methotrexate leads to a very painful and uncomfortable death as the drug may suppress a patient's bone marrow and reduce immunity. This leaves the patient susceptible to gastrointestinal mucosal ulceration, sepsis and death.
There has been a marked increase in methotrexate-related deaths between 2014 and 2015, and Cairns has warned that deaths related to accidental overdosing of the prescription drug will continue to rise with the ageing population.
Researchers have recommended reducing the size of the current packs to only a month's supply (only four tablets). They also prescribed packaging the drug with folic acid. Distinct warning on packs, formulating coloured tablets and prescriber alerts in dispensing software were also recommended by the experts.
MEET IBT NEWS FROM BELOW CHANNELS