Man without a heart finally gets one: US man gets transplant after living without a heart for 555 days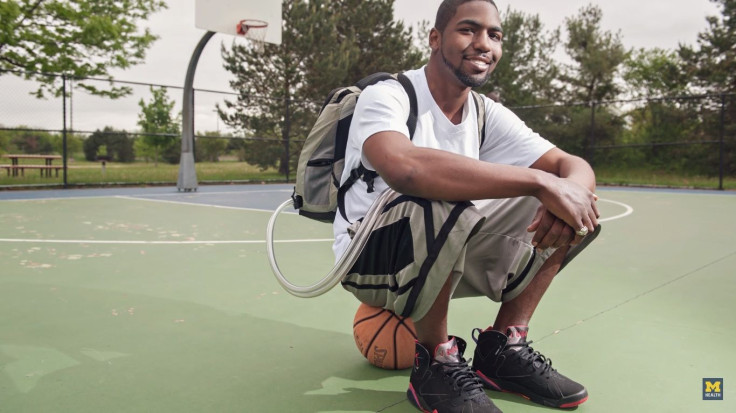 An American man literally lived without heart for more than one and a half years. Stan Larkin, 25, has finally been transplanted a real human heart, 555 days after living without one and just carrying an artificial organ in his backpack.
Larkin, from Michigan, US, appeared to be a typical young adult going about his days and sometimes playing basketball. What was unusual about him was he had no heart and was only kept alive by the backpack he always brought with him. The backpack carried an artificial heart that was connected to his chest, and therefore was able to keep him alive for more than a year.
When he was just 16, he collapsed during a basketball game. He and his older brother Dominique were both diagnosed with arrhythmogenic right ventricular dysplasia (ARVD), a rare heart condition that causes irregular heartbeats and weakens the heart.
Doctors installed a defibrillator in Larkin's chest to normalise his heartbeat. However, even though he avoided doing strenuous activities, the defibrillators were beginning to fail. Larkin's ARVD progressed to bi-ventricular dysplasia, and his defibrillators wouldn't be able to keep up anymore. It was clear he needed a heart transplant. He and his brother were placed on a donor list, which meant it would take years before they could actually receive a heart transplant.
In November 2014, Larkin's condition worsened. He went into cardiogenic shock, prompting doctors to remove his heart entirely. He was initially hooked to a machine meant to keep patients waiting for a transplant alive. He was alive but bedridden.
A month later, he was discharged from the hospital with a SynCardia Freedrom Total Artificial Heart, which allowed Larkin to be mobile. The device was fitted inside a backpack and pushed compressed air through long tubes that entered his chest and pumped blood through his body. It basically allowed him to live even without a heart.
Although he could move around and even play basketball with the device carried in his back, there were still some restrictions in his movement. For one thing, he could not just take a bath because the SynCardia device was electric. He could only wash up in bath, he told CTV News.
Dominique, who was also fitted with the 13.5-pound portable device, successfully received a heart transplant in 2015, leaving Larkin without one for longer. Eighteen months later in May, Larkin was back at the University of Michigan Frankel Cardiovascular Centre for a heart transplant. Jonathan Haft, M.D., performed the surgery.
"We wanted to get them heart transplants, but we didn't think we had enough time," Haft said, referring to the brothers. "There's just something about their unique anatomic situation where other technology wasn't going to work."
"It was an emotional rollercoaster," Larkin said at a news conference following his successful surgery. "I got the transplant two weeks ago and I feel like I could take a jog as we speak. I want to thank the donor who gave themselves for me. I'd like to meet their family one day. Hopefully they'd want to meet me."
Larkin said he hoped those with severe heart disease will consider having the device implanted as well. "I would recommend it because if your other organs are sick, it will bring them back and get them 100 percent healthy and ready for transplant," he said.

YouTube/UMHealthSystem
MEET IBT NEWS FROM BELOW CHANNELS