Innovative reusable grocery bag hopes to solve Australia's plastic bag ban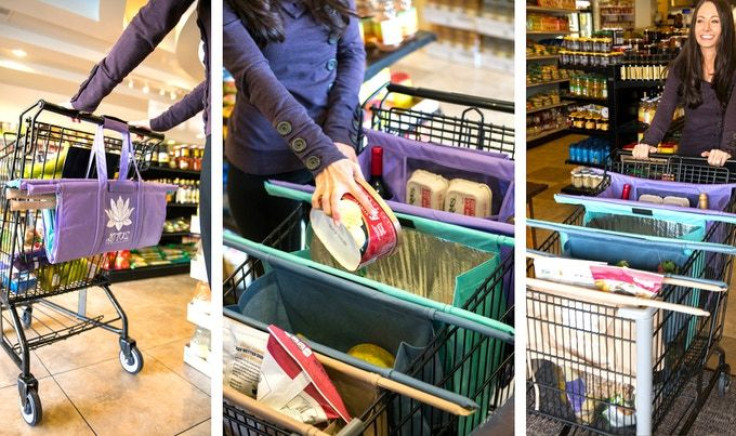 With major supermarkets banning — and reversing — plastic bags in stores, Australian consumers need to get smart about grocery-shopping. One couple in the US has a solution to the problem, and they are hoping to bring it to Australia.
California-based couple Jennifer and Farzan Dehmoubed are the founders of the Lotus Trolley Bag, an innovative approach to the typical reusable bags that shopper carry as substitute for plastic bags. Their idea for a green bagging system was born out of necessity.
In 2016, California banned the use of single-use plastic bags at grocery stores, making it the first US state to do so. Farzan and Jen then thought they could supply shoppers what they needed: a new way to pack groceries without using plastic bags. And so their Lotus Trolley Bag was born.
Australians could probably relate, as just a few months before, Woolworths and Coles had committed to ban single-use plastic bags in their stores. Many shoppers were not pleased with the change, and then Coles eventually gave in and reversed the ban.
The Dehmoubeds' product is a set of four detachable and reusable bags designed to be spread out, "accordion-style," along the top of a shopping cart. One of the bags is insulated to keep frozen products cold. The bags also have compartments for different grocery products, with specialised pockets for fragile items like eggs and bottles, as well as mesh bottoms to prevent spills from moulding. The rods, which allow the bags to suspend from the cart, are also removable so users can machine-wash the bags.
The Lotus Trolley Bag has been sitting on the US Amazon's Choice list for months, and now the husband-and-wife team wants to take it to Australia.
"We have been blown away by the amazing response and reaction from our customers throughout the US," Farzan said of their product. "It has been so exciting to see the product sell out three times in the past six months. We've had demand from 14 different countries and are now looking to raise funding to expand the concept internationally."
The couple has started a Kickstarter to fund the Lotus Trolley Bag's premiere in Australia. And as of the time of writing, it has been funded 40 percent of the goal of US$10,000 (AU$14,090). The product has until Nov. 23 to attract funds.
IBTimes Australia does not endorse any product or practice mentioned here. The article is based on press releases sent for consideration.
MEET IBT NEWS FROM BELOW CHANNELS