Huawei uses professional camera in ad about using Nova 3i for selfies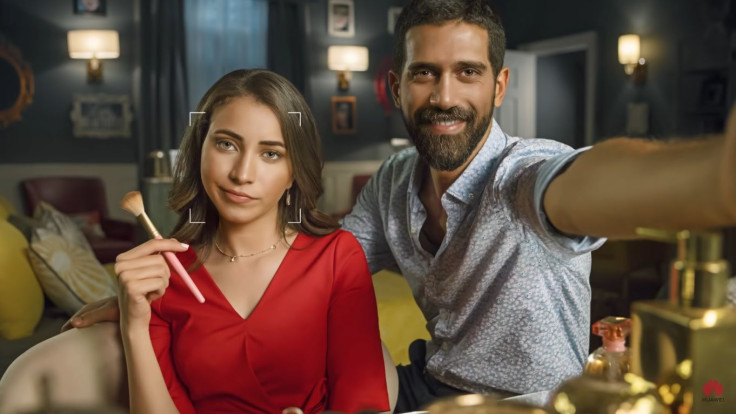 Huawei appears to have been caught lying about its phone camera capabilities. The Chinese mobile phone-maker has recently released a new ad for its new Nova 3i device in Egypt, but a behind-the-scene photo shared by its actress has apparently belied the phone's claim.
In its new commercial ad, a couple is seen taking selfies of themselves using the new Nova 3i phone in different environment and lighting. The ad doesn't directly say that the shots, which are stills passed for photo samples, were taken using the Huawei Nova 3i device, but it is implied as the man is seen extending his arm and pretending to take a shot using his phone.
A few days after the ad went live, a Redditor pointed out that the actress in the video, Sarah Elshamy, posted a behind-the-scene image on Instagram from the ad's shoot, in which it was clear that her co-star was extending his arm and only pretending to hold a phone for their selfies. He was actually putting his arm beside an expensive-looking camera, perhaps a DSLR.
The photo has since been deleted from Elshamy's Instagram but someone has screenshot it and posted it on Imgur. But as Redditor AbdullahSab3 added, Huawei told CNN that it has included a disclaimer at the end of the video that says it didn't claim the Nova 3i was used in the ad.
"Product characteristics and actual specifications may vary (including but not limited to appearance, colour, size), as well as actual presentation contents (including but not limited to backgrounds, user interface and controls)," the disclaimer text reads in Arabic.
This isn't the first time Huawei has been involved in a similar issue. In a 2016 report by Android Police, Huawei also published a promo photo for its P9 smartphone. Again, it did not explicitly say that the photo was taken using the device, but it was heavily implied.
It isn't just Huawei that has been caught using professional cameras in the ads showing their new smartphone's prowess in taking great photos. As Gizmodo notes, Samsung and Nokia have also done it in the past. Even Apple's "Shot on iPhone" campaign wasn't as truthful as it seemed.
In its famous ad released last year, the "Shot on iPhone" tagline also included a disclaimer that read, "Additional equipment and software used." It meant that no matter how cinematic the video shown on the ad seemed, an ordinary iPhone user wouldn't be able to replicate it by just using their iPhone alone.
MEET IBT NEWS FROM BELOW CHANNELS