Ellen DeGeneres Playfully Defends Being Gay, 'Brainwashes' Youth To Just Be True To Themselves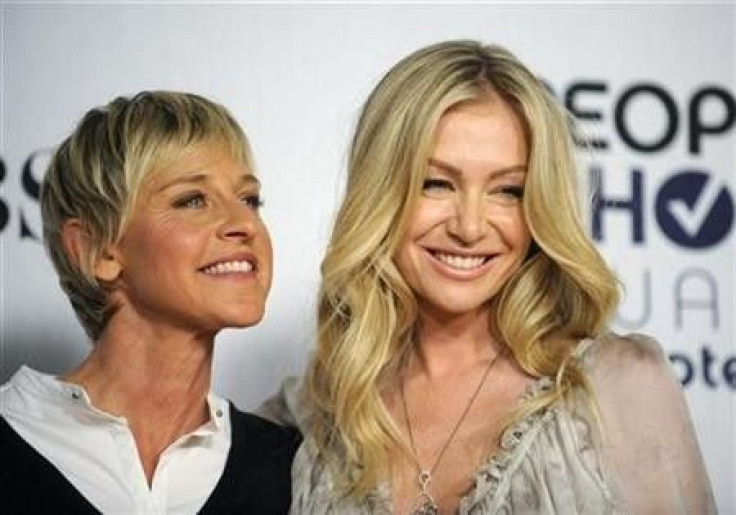 Ellen DeGeneres took the time to defend herself against a columnist who claimed she has a "gay agenda." The talk show admitted that while she does not ordinarily read stuff about herself and refute rumours, she had to take some time to address these claims, say her sole agenda in the world is making people more compassionate with each other... and to poke fun at the columnist while at it.
Talk show and comedienne Ellen Degeneres used her wit and humour to respond to a Christian Post contributor's claims that gay celebrities like her are pushing a "gay agenda" on the youth of America. On "The Ellen DeGeneres Show," the host and writer addressed the op-ed submitted by Pastor Larry Tomczak. Larry had written that Ellen is celebrating her "lesbianism" and "marriage" in between appearances of famous young celebrities such as Taylor Swift to attract young girls.
Yahoo reported that aside from correcting Larry's use of the quotation marks around the word "marriage," saying she's just married and not "married," Ellen emphasised that the gay agenda does not exist. "My only agenda, Larry, the only way I'm trying to influence people, is to be more kind and compassionate with one another," she said. " I don't have an agenda, I'm not here to brainwash anyone," she added.
But because the columnist already brought out the topic of agenda and brainwashing, the host took out a spinning vortex and held it up the camera. She acted as if she indeed has the capability to brainwash American youth and spoke as if she was indeed trying to. In her brainwashing stint, she asked the "youth of the world" to live their lives being themselves, because that's the most important thing. The second important thing is for them to wear "Ellen underwear." The host also laughed at the accusation of her "celebrating" her gayness, setting off a popper to emphasise her point to the viewers and to Larry.
In his column, Larry also said that TV shows such as "Modern Family" and "Glee" should be avoided because they are pushing the "gay agenda." Ellen called him out on these attacks, too and said he's the one watching too much "gay TV." She joked that the show Larry is promoting kids to watch, "I Love Lucy," also has its own gay scenes, particularly between the characters of Lucy and Ethel.
Meanwhile, the funny host would be even busier with her new projects this 2015. According to Hollywood Reporter, ABC network broadcasted on Wednesday at the Television Critics Association's winter press tour that it has picked up the series "Repeat After Me," which is an unscripted series produced by Ellen DeGeneres. Her new furniture design competition series, "Ellen's Design Challenge," is also set to air on Jan. 26.
To report problems or to leave feedback on the article, e-mail: a.dee@ibtimes.com.au.
MEET IBT NEWS FROM BELOW CHANNELS