Crypto Winter 2022 - How to benefit from this period of time? How can investors win
What is a crypto winter in 2022?
The crypto winter that began in June this year is different to any that have come before it for a number of reasons. This is generally down to how much bigger and more diverse the space is compared to the last one in 2018-19. At its peak in November 2021, the total crypto market cap was nearly four times as big as the January 2018 peak, with nearly $50 billion locked into DeFi projects alone, showing just how much more investing in crypto there was last time round.
This will mean that a much larger number of participants will be around in this bear market, and not just retail ones - institutions have woken up to the promise of Bitcoin and will be watching the market like hawks ready to buy big as cheaply as possible.
This increase in people investing in crypto will mean more projects building than ever before, improving their products for the next generation of users. And then of course there is sovereign adoption such as we saw in El Salvador, with governments urging citizens to use Bitcoin on a daily basis.
This huge growth may not make the crypto winter any less brutal, but it might help make the spring bounce that much bigger.
Are there benefits to the crypto winter?
Crypto winters are tough, but there are benefits. The crypto space will get a much needed clearout, with irresponsible projects thankfully departing the scene. Well run companies that are built to survive such fallow periods will continue to build, develop and innovate, ready to welcome new clients when the crypto spring arrives.
According to Bitmedia, the leading crypto advertising platform in the blockchain space, companies that remain to exist still see a healthy inflow of traffic and demand for their services. The company further states that crypto advertising which exists even during crypto winters, is all about ensuring that advertising budgets are effectively used and result in bringing new business and traction to the crypto space, even in a bear market.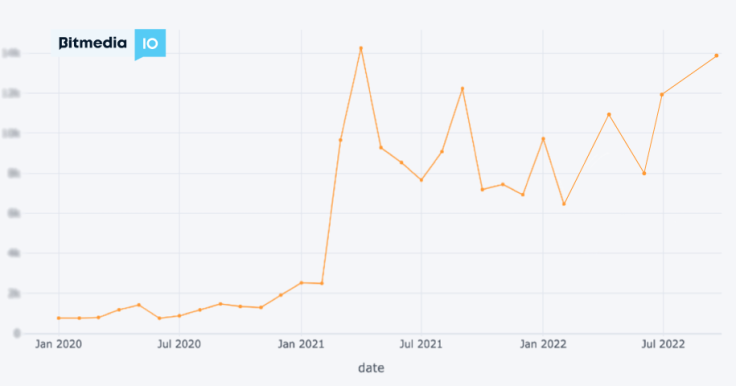 What should investors do during the crypto winter?
The golden rule for investors during a crypto winter is 'preserve your capital'. Trading during a crypto bear market should only be reserved for those who really know what they're doing - many amateur traders can lose everything against superior traders.
For this reason, most crypto investors are better off staying out of the markets and ignoring the cryptocurrency price action one way or another until the good times return (the next section highlights various ways to do this). Investing in crypto during a bear market can earn you millions a few years down the line, but timing is everything.
This sentiment of caution mixed with opportunity is one shared by Bitmedia CEO Matvey Diadkov:
"Crypto investors need to understand whether they are going to stay in the market for the short or long term. Experienced traders can make money whichever way the market goes, but casual investors should be more cautious and either hold what they have or move to stablecoins until the market starts to show strength again."
How to stay warm during crypto winter
There are many ways to 'stay warm' during the crypto winter and prepare for the next market cycle. You could even make a little money if you're brave enough! Here are some things you can do to get through the bear market:
Dollar-cost Averaging
Dollar-cost averaging is a way of investing in crypto by layering bids down to the level at which you think it might bottom out. The idea here is that you can place your bids and walk away, knowing that there's a good chance some of them will hit. For example, you could divide your reserves into five parts and set bids on Bitcoin at $2,000 intervals down to $14,000. That way, if there is a big cryptocurrency price drop, your bids will capture some or even all the action.
HODL
Not sure you have the confidence of trading in a crypto bear market? Then just HODL what you have. Those who bought the 2017 Bitcoin top at $19,000 were rewarded four years later with a 3.6x return. Not bad for doing nothing!
Day (and Night) Trading
If you're keen to make some money in the crypto winter, all you need is volatility. Plenty of people make money longing the dips and shorting the bounces, but you need to know what you're doing. Fortunately, a bear market is the perfect time to teach yourself. Just go careful with the leverage.
Stay on the Sidelines
One of the best ways to handle a crypto winter is to keep your portfolio in stablecoins. By doing this the value of your holdings is secure while you are ready to jump into the market at a moment's notice if there is some tempting cryptocurrency price action. For those who prefer a little more security over speed, keep your coins in cold storage throughout the winter and thaw them out when the spring returns.
Learn
Have you ever found yourself asking other people 'why is crypto down?'. The crypto winter is the best time to learn for yourself about the crypto market cycles and why they happen the way they do. You could also go right back to the start and fill in some gaps in your knowledge over blockchain technology, Web 3.0 and the metaverse.
You could even read up on the creation of Bitcoin and see if you can work out who Satoshi Nakamoto might be!
The crypto winter is a rite of passage
Overall then, while crypto winters are not pleasant things to experience, they are a rite of passage that everyone who wants to thrive in the crypto space needs to experience at least once. Doing so will give you a greater appreciation for the good times, but also teach you which products and companies are the ones that will still be around for the next one.
Finally, if you run a crypto related business, there is always a chance to acquire new clients, and this is what crypto advertising networks are for, giving you a chance to stand out from competition and reach just the right audiences.
MEET IBT NEWS FROM BELOW CHANNELS