'Battlefield 1' single-player trailer, Xbox One file size download revealed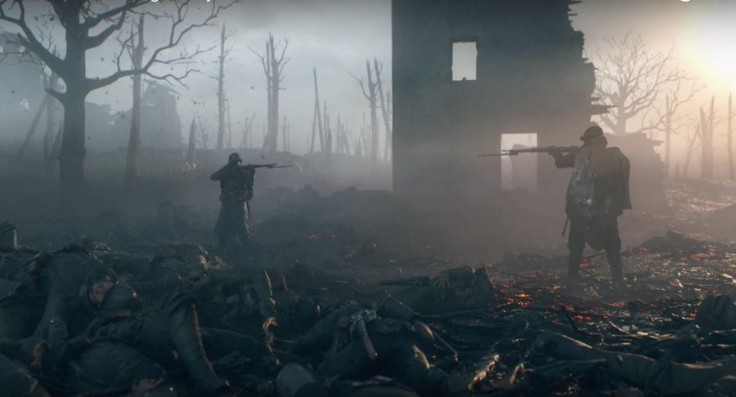 EA and DICE have released a new trailer for "Battlefield 1." This time, it's focused on the game's single-player campaign, a new tactic for the developer considering how the Battlefield franchise has always found the multiplayer mode as its strong suit.
It seems that the developers are focusing on the drama behind what happens in war. From the very cinematic look of the trailer—interspersed with gameplay scenes that almost seem very seamless, as what the developer had wanted—the emotions run high with this one.
"They push, we push. Every once in a while, we push hard enough that the light breaks through the clouds, and a world beyond the war blinds us. Behind every gunsight, there's a human being. We are those people," said the narrator in the video.
The tensions do appear to go beyond killings and shootings. From the trailer alone, it feels like the goal just goes beyond who gets the most kills, at least for the single-player campaign. There is a highlight on the stories of the people involved, and perhaps even the decisions and consequences that come with every action.
This may be a new direction that EA and DICE are taking the franchise. Beyond mindless troops, the Great War may be about varieties and the stories behind each one.
"In 'Battlefield 1,' you'll experience a series of what we call War Stories: personal stories focusing on different protagonists with unique backgrounds and skills. While our characters are at war, the stories in 'Battlefield 1' are personal. They're about people rather than history or battles," said DICE in the official Battlefield Blog.
Check out the full trailer below, and prepare for a lot of emotions heightened by swelling music and landscapes of war.
Players who are planning to get the game on the Xbox One may want to reserve 42.6GB of space for the game. And according to DualShockers, this version is already available for pre-load as well.
"Battlefield 1" will be out on the PC, PS4, and Xbox One on Oct. 21.
"Battlefield 1" single-player mode (Credit: YouTube/Battlefield)
MEET IBT NEWS FROM BELOW CHANNELS