Starbucks Schultz Ignites Social Media Over Campaign Promoting Talks On Racial Issues While Having A Cup Of Coffee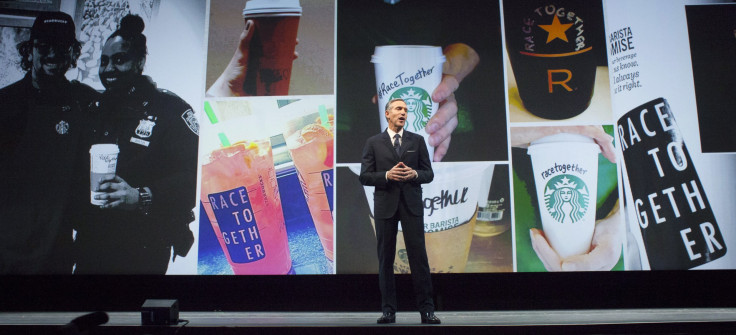 Starbuck's unprecedented move to promote racial conversations over a cup of its coffee was cut short after Howard Schultz, its chief executive officer, was criticised on social media for allegedly going overboard for initiating a culture-sensitive campaign that has no place in coffee shops. The campaign was further criticised as the coffee giant's attempt to capitalise on America's racial tensions.
To further his cause, Schultz even placed a whole-page ad in several newspapers in the United States, with lines such as "RaceTogether" written at the bottom near the logo and "Shall We Overcome?" at the centre. SBUX's baristas were also given the choice to write hashtag "RaceTogether" on coffee cups. But the CEO wrote his employees a letter telling them the campaign where employees can write messages on coffee cups should end on Sunday.
"While there has been criticism of the initiative — and I know this hasn't been easy for any of you — let me assure you that we didn't expect universal praise," Mr. Schultz wrote. "We leaned in because we believed that starting this dialogue is what matters most," he continued.
Earlier, SBUX's Senior Vice-president for communications, Corey duBrowa, told the press he deactivated his twitter account after he got overwhelmed by the volume and tenor of the discussion, and reacted. He explained he was merely concerned about becoming a distraction from the respectful conversation around RaceTogether that they have been trying to create. He reactivated his account a few hours later.
"No matter how ugly the discussion has been since I shut my account down, I'm reaffirming my belief in the power of meaningful, civil, thoughtful, respectful open conversation  —  on Twitter and everywhere else," he said.
The idea to encourage coffee lovers to talk about racial issues began when Schultz made a choice not to remain a bystander after a series of tragedies involving races was committed in some communities throughout America. At the headquarters in Seattle, Schultz led his team including several partners in passing the microphone to share their personal experiences.
Schultz defended his campaign by telling the press that at Starbucks, they should be willing to talk about the issues in America, not to point fingers or place blame, and not because they have answers, but because staying silent is not who they are.
For comments or feedback on the article, please contact the writer at selivak@ibtimes.com.au.
MEET IBT NEWS FROM BELOW CHANNELS