Prince Charles and Camilla's official 2015 Christmas card features the royal couple in a light moment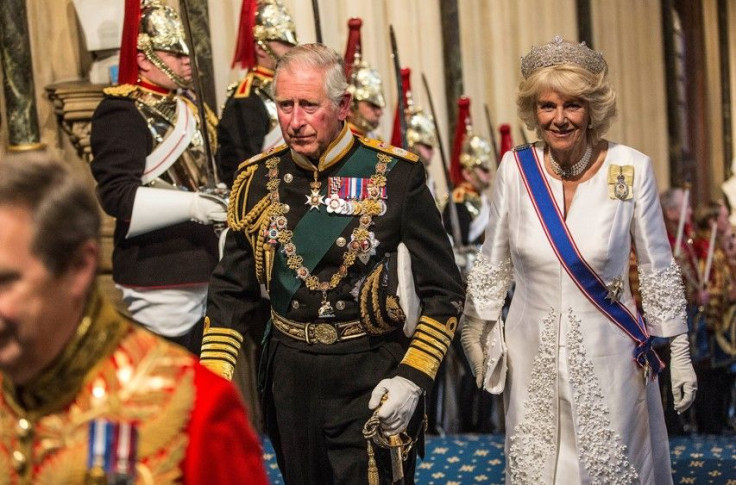 Prince Charles and wife Camilla, Duchess of Cornwall, have released their official Christmas card featuring a photo of them with their arms on each other's shoulders. The said photo, which can be seen below was reportedly taken by a friend of the royal couple. They were at a private estate in Scotland during their summer holiday.
The Prince of Wales is smartly dressed in a long-sleeved shirt and printed tie while Camilla, wears a jumper, blouse, scarf and jacket. Both have wide grins on their faces. The royal couple's 2015 Christmas card has a short message inside. It was posted on the official Instagram account of Clarence House, which represents Prince Charles and Camilla.
"Wishing you a very Happy Christmas and New Year," the message on Their Royal Highnesses (TRH) Christmas card reads.
The card's cover bears The Prince of Wales' Feathers and The Duchess of Cornwall's cipher. Prince Charles and Camilla will be sending the card to certain individuals and organisations that are associated with them.
Several reactions about the card's photo were posted by various Instagram users. Most of them say that it's a beautiful picture while some say that it looks so normal. Below are a few of the comments about Prince Charles and Camilla's Christmas card for 2015.
"I like them a lot! Ciao Charles and Camilla!!! Buon Natale!" posted Instagram user danielaagrippino.
"Beautiful card, beautiful couple! Merry Christmas!!!" Luz Papadimitriou (luz1409) posted.
Instagram user robemkai says that the photo is lovely and the couple look happy and in love. Meanwhile, whanau62 comments that even if she loves Princess Diana, she thinks that Camilla and Prince Charles are a better fit.
Clarence House also posted other photos of what has been happening with Prince Charles and Camilla lately. Before releasing a sneak peek of their Christmas card, The Duchess of Cornwall had invited special guests from the Helen & Douglas House Hospice for Children and Young Adults to decorate Clarence House's Christmas tree. It is said to be a Christmas tradition for one of the Welsh Guards to help Camilla and her guests with this special task.
One of the guests named Alice can be seen on the photo above as she tries on a hat from one of the Welsh guards. The Helen & Douglas House Hospice for Children and Young Adults is a charity hospice located in Oxford, England. It helps life-limited children and young adults, as well as their families by giving them respite, end-of-life and bereavement care.
As for His Royal Highness (HRH) The Prince of Wales, he was recently in London to attend an Advent reception hosted by Cardinal Vincent Nichols, Archbishop of Westminster. Prince Charles met with Christians in the Middle East as well as various representatives of Christian aid charities. He also offered special prayers for those who are suffering and are persecuted for their faith.
Prince Charles and Camilla's 2015 Christmas card has a more relaxed photo of the two, compared to their official 2014 card for the holidays. In their previous Christmas card, they chose a photo of them clapping proudly during the opening ceremony of Prince Harry's Invictus Games. These games allow servicemen and women who have been wounded and injured to still compete against each other, much like the Paralympics. Click here to see the said photo from HRH's official website.
Contact the writer of this story at feedback@ibtimes.com.au or let us know what you think below.
MEET IBT NEWS FROM BELOW CHANNELS