Australian economy strong enough to cope with China slowdown, says treasurer Joe Hockey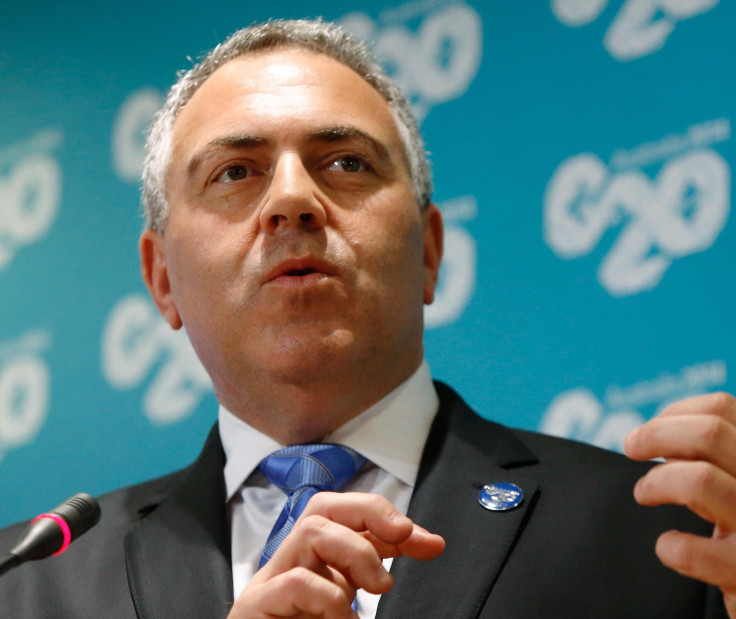 Treasurer Joe Hockey has dismissed the fears about China's economic slowdown affecting Australian economy and said the country's economy is resilient enough to cope with any turbulence from the Chinese economy "as long as it's not a global-wide phenomenon." He is of the view that much of the concerns around China's economy are "over-blown."
In an interview with Bloomberg in Turkey's Ankara, where he attended the G20 ministerial meeting, Hockey touched upon many aspects of the Australian economy.
"We can cope with a currency that continues to fall, because it's going to empower our exporters," Hockey said.
The treasurer was referring to the falling Australian dollar and said he cannot predict any safe level for the Australian dollar, which on Sep. 4, fell to a six year low against the U.S. dollar. His comments assume importance as Australia's economy posted a tardy growth of 0.2 percent in the last quarter, which was quite abysmal. compared to the previous forecasts already made.
Job growth
However, the treasurer sounded jubilant over the "pretty strong employment growth" even in the wake of weaker economic expansion. Australia's fiscal deficit in 2015- 2016 is expected to be AU$35.1 billion, or 2.1 percent of gross domestic product, according to the estimates by the government. Hockey had been oozing confidence that a rebound with 3.5 percent growth in fiscal 2018-2019 was in cards and that is going to bridge the fiscal deficit. He wa making those forecasts before the recent market turbulence in China hit world markets.
Brisbane effect
Meanwhile, at the G20 ministerial meeting, Hockey took credit for Australia's G20 leadership and stated that the global growth would have been much slower today if world leaders had not agreed to a two per cent growth target in Brisbane, under the Australian initiative. He was commenting on the disappointment expressed by global leaders over the International Monetary Fund's downgrading of world growth outlook in 2015 to 3.3 percent growth.
"But world growth would be lower if not for our leadership and determination last year to have a two per cent target and to roll out a global infrastructure initiative," Hockey said.
At the Brisbane G20 Leaders Summit in 2014, world leaders agreed to pursue an "ambitious goal" to lift the G20's GDP by an additional two percent by 2018, with the infusion of US$2 trillion (AUS$2.87 trillion) into the global economy.
China FTA
In a message to the domestic constituency, Hockey made clear that the Chinese government will not renegotiate its free trade agreement with Australia, if Labor chooses to block the agreement. Hockey said he had a meeting with Chinese Finance Minister Lou Jiwei on the sidelines of the G20 ministers meeting and China's position on the matter was made clear, The Age reported. But, Hockey's comments were slammed by shadow Treasurer Chris Bowen.
"Mr Hockey has presided over an Australian economy with sustained below-trend growth and now he's lecturing the rest of the world?" Bowen said.
For feedback/comments, contact the writer at feedback@ibtimes.com.au or let us know what you think below.
MEET IBT NEWS FROM BELOW CHANNELS